Retainers in Charles County, MD
Conveniently located in Waldorf and Leonardtown, and serving Charles County and St. Mary's County, Maryland, Sequence Orthodontics offers retainers and other forms of comprehensive orthodontic care to the residents of Maryland who wish to improve their smile and oral health. 
What Are Retainers?
Retainers are custom-made orthodontic devices, usually made of metal or clear plastic, that hold teeth securely in position following treatment with braces, surgery or any other method of straightening or realigning the teeth.
How Do Retainers Work?
Every retainer is custom-made for each patient. A retainer is designed to "retain" or hold the position of your teeth once they have been realigned via braces or other methods. Once your braces are removed, your teeth still need to settle into the jawbone and soft tissue that hold them in place. Retainers keep teeth from moving, loosening, shifting, wiggling or returning to their original unaligned position following treatment with braces.
What is the Advantage of Wearing a Retainer?
According to the 
International Journal of Dentistry, 
wearing your retainer correctly helps keep teeth aligned, thus diminishing the risk of poor general or oral health. A lesser-known advantage is that retainers can help some patients breathe better and some to control snoring while sleeping. Some patients also see an improvement in speech as a result of orthodontic treatment and wearing a retainer.
What Kinds of Retainers Are Available at Sequence Orthodontics?
Every retainer at Sequence Orthodontics is custom-designed for each patient, and we offer different types of retainers to suit individual needs.
Permanent retainers, also known as bonded retainers, are cemented to the inside (or lingual) of two or more teeth. These retainers are considered permanent since patients cannot remove them on their own. Permanent retainers offer the most thorough and effective form of protection against movement or shifting of the teeth.
Hawley retainers consist of an acrylic body that covers the roof of the patient's mouth or lies along the tongue side of their lower teeth, with wires and clasps embedded in it that are easily adjustable. Hawley retainers offer a variety of design options. They are often used to further refine the alignment of your teeth, or they may be adjusted to help guide your teeth back into proper position in case of any shifting. Hawley retainers offer the advantage of being durable and adjustable.
Clear plastic retainers are similar to Invisalign® in look and feel, but are more durable than Invisalign® as they are designed to last for a year or longer. Invisalign® patients may naturally prefer clear retainers because of the similarities with Invisalign®. These retainers provide the advantage of being invisible, but they are not as durable or versatile as a Hawley retainer and may not be suitable for patients with short teeth or puffier gums. Clear retainers also cover the bite surface of the teeth and therefore may feel bulky to some patients. Patients who grind their teeth will wear through these retainers very quickly because of their less durable nature.
Who Should Wear a Retainer?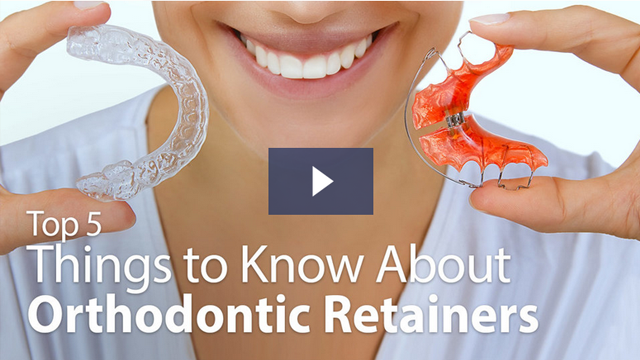 Almost anyone over the age of seven who is a suitable candidate for braces or other orthodontic treatment may also successfully wear a retainer. Typically, retainers are suitable for adults, teens, and children.
Why Choose an Orthodontist vs. a Dentist When Being Fitted for a Retainer?
A dentist is a general dental practitioner, while an orthodontist is a specialist trained in tooth movement, alignment of teeth and jaw function. An orthodontist must first complete dental school to become a dentist and then attend an orthodontic program for several more years to become a professional orthodontist. Although some dentists have taken courses on how to apply Invisalign® or other types of orthodontic treatments, they usually do not have the skill, expertise, and experience of a professional orthodontist.
How Long Will I Have to Wear a Retainer?
The length of time you'll have to wear your retainer will naturally vary from patient to patient just as all orthodontic treatment times vary with each individual, but generally retainers are worn for the same length of time that you wore your braces, since teeth may take up to one year or more to stabilize after treatment. For patients who had gaps between their teeth prior to treatment, the period of wearing the retainer may be a bit longer.
Is It Uncomfortable to Wear a Retainer?
Wearing a retainer may cause mild soreness in the jaw and gums after the initial fitting. This soreness may last for a few days, but normally wearing a retainer produces less discomfort than wearing braces.
Why Choose Sequence Orthodontics for a Retainer?
Our orthodontic specialists provide extensive experience and expertise in the field of orthodontics. Our doctor will actually apply your retainer and conduct the consultation, which is not the case at many other practices.
What Should I Do Next?
If you live in Charles County or St. Mary's County, Maryland and want to maintain your appearance and oral health through the use of a retainer, contact our Waldorf or Leonardtown office to schedule an appointment at Sequence Orthodontics, where our friendly staff will be happy to assist you.