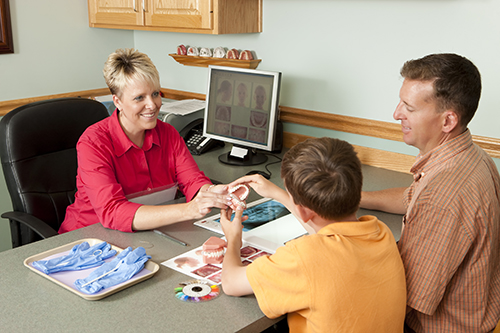 The benefits that come with having braces seem innumerable: a straighter and attractive smile, the ability to bite and chew correctly, and alleviation of headaches, jaw pain, earaches, and sleep apnea. Although having braces is extremely beneficial and common, many kids and teens still feel nervous about getting them. The day your child gets their braces may seem like the end of the world to them, but here are a few things you can say to make them feel more comfortable and reassured about the treatment.
Help with Their Self-Confidence
Adolescence is already an awkward stage, even without having to experience the transition to adulthood with braces. Your child may be feeling extra self-conscious about their braces, particularly if someone at school has been giving them a rough time. Remind them that they are still beautiful while focusing on their positive, inner qualities and strengths.
Make the Proper Food Choices
Once your child's brackets are finally on, their orthodontist will likely brief you on new dietary restrictions that come with their new hardware. Harder food like apples, nuts, and popcorn should be avoided as they can break wires and pop brackets off teeth, requiring an extra trip to your orthodontist. Sticky food like candies, chewing gum, caramels, and dried fruit can get stuck in between brackets and cause problems as well. It can sometimes be difficult to ensure your child is following these rules at all times when they are at school or at a friend's house, especially when they are younger. The best rule of thumb is to educate and remind your children on this topic until you feel they are responsible enough to care for their braces on their own.
Your Smile Will Be Beautiful for Life
The good thing about braces is that they're a temporary inconvenience for a lasting and beautiful result. At times though, the pain and monthly trips to the orthodontist will leave your child frustrated and wondering why they needed braces in the first place. Keep encouraging your child and remind them that their braces will eventually be removed and that their beautiful smile and healthy teeth will be worth it.
Sequence Orthodontics is proud to offer braces and other orthodontic treatments to the children of Waldorf and Leonardtown. To inquire for more information or to schedule a consult, contact our office today.